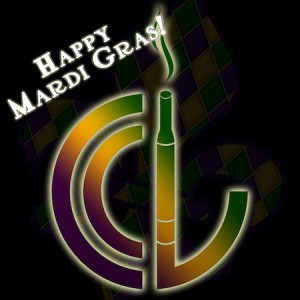 With two shops located on the parade routes, we'll be partying and vaping all Mardi Gras long at Crescent City Vape. As a thank you to our amazing customers, and to celebrate our very first Mardi Gras, Crescent City Vape will be offering some truly crazy Carnival specials.
In fact, we will be offering a crazy new deal on e-juice or hardware every single parade day — that's 9 days and 29 parade's worth of the best vaping deals in NOLA.
All specials will be available at both the Magazine and St. Charles shops all day long, while supplies last.
Stay tuned to our Facebook and Twitter pages for announcements about each day's specials. Here's the remaining schedule!
Wednesday, Feb. 11

— KangerTech Subtank for only $44.99 (reg. $64.99)!
The Kanger Subtank is the most versatile sub-ohm tank out on the market today featuring both 1.2 ohm and 0.5 ohm replaceable coils, as well as a rebuildable section that can be switched out to make the subtank fully rebuildable. The subtank replaceable coils come built with kanthal wire and organic cotton wicks delivering one of the most flavorful vapes you can get in a tank.

Thursday, Feb. 12

— Cosmic Charlie's Chalk Dust. Two 15ml bottles for $17.99 (reg. $12.99 per bottle)!
This delicious juice is mixed at a 70/30 PG/VG with popular flavors like Banana Brulee (caramelized banana on buttermilk pancakes), Dream Cream (a rich vanilla with hints of fudge and notes of cinnamon) and Slam Berry (farm-fresh strawberries and homemade ice cream).

Friday, Feb. 13

— Cloupor Mini 30 Watt Box Mod + an Aspire Atlantis Sub-Ohm Tank with MXJO 35 AMP battery just $99.99 (reg. 154.99)!
This sub-ohm starter kit is an extremely portable and powerful set up. The cloupor mini and the atlantis sub-ohom tank are two of the most popular e-cig products on the market, perfect for anyone on the go with no time to drip, or for those vapers looking to get a little more power out of their vape without fully committing to building themselves.

Saturday, Feb. 14

— We Three Vapors. Two 15ml bottles for $18.99 (reg. 14.00 per bottle)!
One of the hidden gems of the e-juice world, We Three Vapors is blended at a 70/30 VG/PG ratio, with popular flavors like Nanner Nanner (smooth vanilla custard), Banana Suicide (banana, lots and lots of banana) and Queen Cake (what better occasion than this for a king cake vape?).

Sunday, Feb. 15

— MXJO 18650 Batteries. Two for $17.99 with the purchase of any juice!
The Yellow Battery! These 18650 batteries are rated at 35 AMP with a 2500 MAH capacity, perfect for sub-ohm vaping in a regulated or an unregulated mod.

Monday, Feb. 16

— Cloud 9 E-Juice. Two 30ml bottles for $31.99 (reg. 20.99 per bottle)!
Cloud 9 is mixed at either 80/20 VG/PG or Max VG. This juice captures the perfect amount of vapor production, while keeping the intense flavor of high PG juices intact. If you haven't tried Cloud 9, today is the day you should, with delicious flavors like Blueberry Smurf, Strawberry Shake, and Dark Matter (peanut butter and vanilla).
(Closed Fat Tuesday, Feb. 17.)
These specials are available at both of our locations (in-store only):
Crescent City Vape – Uptown
4507 Magazine Street
New Orleans, LA 70115
(504) 309-8134
Crescent City Vape – Lower Garden
1224 St. Charles Avenue, Suite B
New Orleans, LA 70130
(504) 267-7550
Follow us on Facebook and Twitter to stay updated, and we hope to see you at the shops.
Cheers to a smoke-free Mardi Gras…cloudy in the tastiest way possible! No matter the family dynamic, each member of the family will be affected by addiction. Overwhelming emotions feed off of silence. One on one therapy gives the individual a safe place to express stronger emotions which need a release. Working through the different trials will help the individual learn how to support the addict in a healthy way. Mending a broken relationship is not easy for either party involved, click here to learn more.