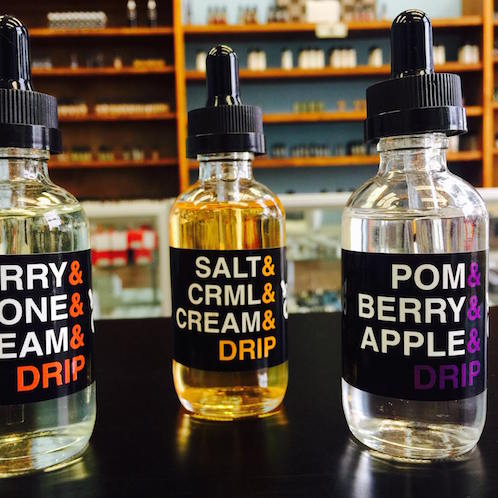 E-juice, also known as "e-liquid" or "juice," is the liquid used in an electronic cigarette to create vapor and flavor. At Crescent City Vape, we believe it's crucial for consumers to be informed about the health implications of electronic cigarettes – and, as the primary ingredient, that starts with e-juice. We hope this guide will provide some clarity on the contents and safety concerns associated with e-liquid.
What Exactly Is in My E-juice?
The most common ingredients in e-juice are vegetable glycerin, propylene glycol, nicotine liquid, and flavorings. Here's a detailed breakdown of e-juice ingredients.
Vegetable Glycerin (VG)
What is glycerin? Glycerin is an organic compound of carbon, hydrogen, and oxygen that is derived from oils and fats. It is used in a huge variety of pharmaceutical applications, including soap, botanical extracts, skin products, and cough mixtures. There is no chemical difference between vegetable glycerin and any other form of glycerin — the "vegetable" part means the glycerin was derived from plant oils.
How is VG used in e-juice? In the world of e-cigarettes, VG is mostly used as a dilutive, which means it dilutes the other main components of nicotine and flavoring. It also is a carrier, spreading the flavor evenly throughout. Flavors in VG tend to deepen as the liquid is aged.
How does VG affect my vaping experience? Having a juice with a high VG content produces a softer, smoother throat hit when inhaled than one made with propylene glycol. VG produces noticeably more vapor than PG. VG also has a slight sweetness to it, so that having a higher VG content can increase the sweetness of the inhale. At the same time, VG can reduce or slightly mute the specific flavor of a juice. For example, you may taste a less pronounced strawberry flavor with a higher-VG juice. For many vapers, this flavor-reduction effect is negligible, and is worth the benefits of using higher VG. Among vapers who drip their juices and use more advanced rebuildable atomizers, there is generally a preference for the subtler flavor and higher vapor production of aged, high-VG juices.
Propylene Glycol (PG)
What is propylene glycol? PG is another common main ingredient in e-juice. It is a diol (or double alcohol compound), which is most commonly used in binding with polymers to aid in the production of plastics. While used in plastic production, PG itself is rated as food-safe by the FDA.
How does PG affect my vape?  PG is more watery and less oily than VG. PG is a great carrier liquid in e-juice, bringing out more of the specific flavor. An e-liquid with higher propylene glycol content will be harsher on the throat and will also produce less vapor than one with higher VG.
What is PG allergy?  Some people have negative reactions to higher-PG juices. This is commonly called PG allergy. It can cause a range of symptoms, including sore throat, sinus problems, headaches, or nausea. Note that some of the same symptoms can be caused by the withdrawal from quitting smoking, so if you are having these issues, it's worth experimenting to find out if switching to higher-VG juice is better for you, or if the symptoms go away on their own as you reduce your tobacco smoking. 
Nicotine Liquid
Where does nicotine liquid come from? Nicotine liquid is extracted from tobacco and can either be pure and flavorless — a simple nicotine additive — or can be made to taste like the tobacco leaves from which it was extracted.
How does nicotine affect my vaping? A higher nicotine content increases the nicotine buzz and also increases a juice's throat hit. When vendors talk about the amount of nicotine in an e-juice, they refer to the number of milligrams per milliliter, meaning that if you get "18 nic" or "18mg," there are 18 milligrams of nicotine in every milliliter of e-juice. The nicotine level in e-juice can range from none (0mg) up to 36mg/ml, usually in increments of 3mg/ml. It is commonly said that 18mg/ml provides nicotine equivalent to that of a standard tobacco cigarette.
Flavorings
What's a flavoring? Flavorings are the natural or artificial flavors in a carrier liquid used to give an e-liquid its flavor and scent. Some flavors are naturally extracted from the source, whereas others use esters and other ingredients to replicate flavors like "peanut butter cup" or "jolly rancher." PG and ethyl alcohol are the two most common carrier liquids used in flavorings. All of these components are GRAS, or generally recognized as safe by the FDA.
Some other ingredients occasionally used in flavorings are:

Is E-Liquid Safe? Examining the Health Effects of E-Juice

A common phrase in any discussion of vaping these days is that "we just don't know yet" about the health effects of e-juice vapor. This is not entirely accurate — many studies have been conducted showing some of the elements we are inhaling when vaping an e-cigarette. Below are some of the common e-juice health concerns and some quick discussions of them.

Formaldehyde and Acrolein

Heavy Metals

Nicotine

These studies do indicate that vaping is not a perfectly safe habit. But cigarettes are definitively proven to include more than 70 carcinogens in toxic levels. At this point in time, all studies show that the potentially harmful elements found in e-cigarette vapor are not present in harmful levels. The bottom line is that so far, it appears likely that vaping e-juice is much safer than smoking tobacco. There you have it: That's what scientists currently know about what's in your e-juice and how it may affect you. Now that we've got that covered, there are over 150 flavors of e-juice waiting at Crescent City Vape — surely one of them is your all-day vape. Come and find it!